Home > Über uns > Production Sites
OWI produces and distributes the products from two locations: in Germany and in Hungary.
At our main location in Lohr am Main (Germany), we develop and produce high-quality moulded parts made of wood and plastic.
Here is our engineering departement based, providing national and international customers with the best possible advice and support.
In our subsidiary plant in Letenye (Hungary) we guarantee cost-efficient and high-quality production of your wood mouldings in large scale production.
Toolmaking, development and product launch are made in Lohr am Main.
HEADQUARTERS – LOHR AM MAIN (GERMANY)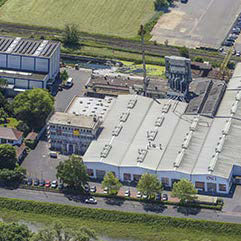 OWI has been headquartered in Lohr am Main since 1955.
Today, just over 100 employees work here.
On approx. 30,000 m² the development, production & administration of
our moulded parts made of wood and plastic takes place.
SECOND PLANT – LETENYE (HUNGARY)
In 1993 OWI acquired the veneer plant "Zalafurnér" located in Letenye, Hungary,
and founded OWI Zala Bt. Letenye is surrounded of huge beech forests which guarantees short transport and reliable supply of high quality beech logs.
Today OWI Zala, in addition to rotary cut veneer, produce the whole range of moulded wood products.
Currently, about 150 employees work here.